West Bengal, India
$2,232.95 of $250,000
makes you an exclusive member of our founders circle
Donate Now
2.2 billion people around the world are living with vision impairments and over 1 billion of these people live in developing countries. They need hope. They need to be empowered to help themselves.
If you're looking for a way to make a great impact and investment into a charitable cause, you will want to support Give Sight Global.
Your donation will do more than restore sight to individuals around the globe.
Give Sight Global's work goes beyond treating vision impairment and blindness. Our ultimate goal is not just to improve the eye health in our target areas of intervention, but to empower communities to take ownership of their eye health through social entrepreneurial donations.
Give Sight Global has selected India as our next initiative. With over 270 million people with vision impairment in India alone, it's considered the country with the highest rates of blindness and vision loss.
We're partnering with the Greater Lions Club leader, Mr. PK Shah, and hospital CEO, Dr. Rajesh Saini of the Siliguri Greater Lions Hospital Network, to meet the needs of the people in West Bengal. Your donation will contribute to the renovation of 3 hospitals and 2 training centers in Siliguri. These improvements will increase the capacity to serve more patients and expand the reach of the hospital to more villages and towns than they currently have the capacity for.
The projected outcomes from this initiative include:
200,000 additional eye surgeries will be given to people in need
2,000,000 more people will receive eye exams and be screened for avoidable blindness
15,000 pairs of glasses will be distributed
The building of 20 for-profit vision centers linked with the hospital network
The development of a Community Health Fund built by the profits of the vision centers
The fund will be managed by the community to address primary health concerns of that community (for example, water, sanitation, immunizations, pre/postnatal care, etc.)
The project impacts from this initiative include:
The economic impact from 200,000 people being able to go back to work or go to school (55% being women and girls)
The social impact of 200,000 people re-integrating with society and their communities
$12,000 per year, doubling each year for 10 years equaling $120,000 per year being contributed to the Community Health Fund
The employment of all female professionals in the vision centers equaling 100 full-time staff over 10 years in total
Addressing the primary health concerns identified by screening an additional 2,000,000 people
15 Villages per vision center will be declared Avoidable Blindness Free within a 3-5 year span of opening each VC
1,100 villages will be declared Avoidable Blindness Free in total over 10-14 years
Our projects will give people the opportunity to earn a living from the solutions they establish to eliminate avoidable blindness in their communities.
Not only will your donation give sight to someone in need, but you will be a significant part of the economic and social impacts: allowing adults to return to work, children to attend school, and for everyone affected by vision impairment to reintegrate into their community.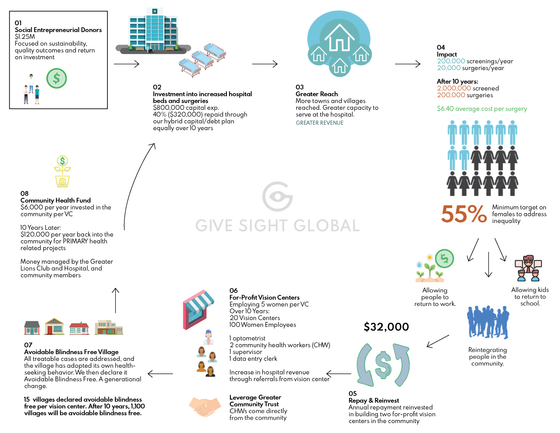 In order to create a continuous and sustainable investment in West Bengal, we are utilizing a Hybrid Capital / Debt strategy that will allow patients that benefit from the vision centers and hospitals to reinvest in building more for their community. The community health workers eliminate each case of avoidable blindness one household at a time through a comprehensive door-to-door survey. After re-surveying the village and ensuring no cases were missed, a Knowledge, Attitude, and Behavior survey is run to ensure the community has built trust and adopted their own health-seeking behavior. That is when a celebration is held to declare the village avoidable blindness free for generations to come. A lasting community achievement that the village will want to maintain now that they understand what to do and where to go regardless if they can afford the treatment or not. No one will be turned away.
Additionally, one of our goals is that 55% of the patients treated via eye exams and/or surgeries are females and that the vision centers will each employ 5 women in order to empower the women in this community. These employment opportunities will include optometrists, community health workers, supervisors, and data entry clerks.
Donating to Give Sight Global goes beyond providing vision care, it gives people the opportunity to live life more fully around the world and it restores their dignity in doing so.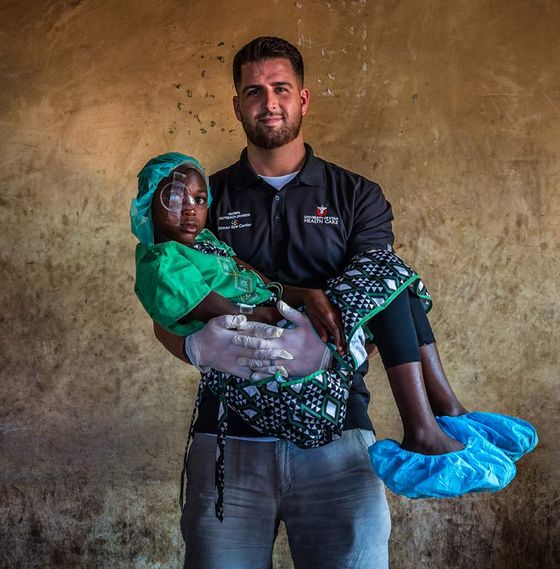 In Tanzania, a 7-year-old girl who needed cataract surgery was one of the youngest people in the clinic that was primarily full of 40, 50, and 60-year-old people that needed surgery. She was timid and scared to get surgery, but once she was prepped, she had so much courage. Having her vision restored would allow her to just be a kid, but also to receive an education and increase her chances of having employment opportunities in the future.
You can join us in thinking differently about how your money can impact others around the world. Donate today and be part of our Socially Empowering Movement!
With your help, we will eliminate avoidable blindness and move out of countries one community at a time as they are financially and physically empowered to manage their own health-seeking behavior for generations to come.
Who is the Siliguri Greater Lions Hospital
Give Sight Global is a tax-exempt public charity (federal tax ID #823534191). All contributions are tax deductible to the extent allowable by law. No goods or services were provided in exchange for your generous financial donation.